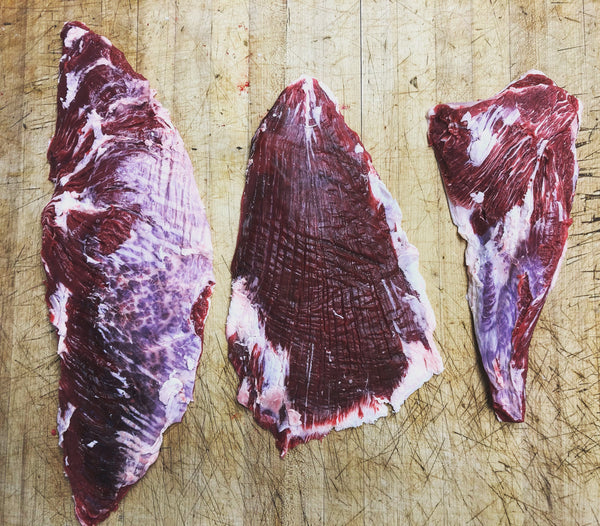 Beef
Buying your beef at D'Arcy's means you'll be getting the best meat available from the best Alberta farmers and abroad. You'll notice our huge selection of many different types of beef all worth their own unique flavours and characteristics:
AAA/PRIME ALBERTA BEEF
The Alberta standard for quality beef. Conventionally raised and available in a huge selection of different cuts with a competitive price. 
DRY AGED ALBERTA BEEF
D'Arcy's Meats starts with quality local beef and ages it from 30-60 days, producing an enhanced flavour, richer smell, and more tender steak. It's one of our staff favourites in the store, perfect for a one of a kind BBQ.
ORGANIC GRASS FED AND GRASS FINISHED ALBERTA BEEF
Raised just north of St. Albert, AB by the Jubenville family this is the healthiest choice of beef. It has a lower fat content and an earthy rich flavour. Despite being leaner its still a surprisingly tender beef when prepared correctly. The Jubenville farm is certified organic and certified humane. 
ALBERTA WAGYU / HOLSTEIN CROSS
From Legal, AB. Raised by the Nonay family at Lakeside Farmstead. Dry Aged by D'Arcy's for superior tenderness and flavour. The most affordable Wagyu option and best choice if you'd like to eat an entire wagyu steak and love supporting our local ranchers!
AUSTRALIAN PUREBLOOD WAGYU (MBS 8-9+)
Australians have been doing a fantastic job raising high quality Wagyu beef for quite some time now. The MBS Scale ranges from 1-12 with 9+ typically being the highest grade of Australian Wagyu we can find in Canada. It's very rich so be wary of eating an entire steak in one sitting. We recommend sharing.
JAPANESE PUREBLOOD GUNMA A5 WAGYU
Imported from the Gunma Prefecture in Japan. A5 is the highest possible score that Wagyu Beef can achieve. This is the highest quality and most expensive beef currently offered at D'Arcy's. Be prepared for an incredibly buttery flavour and soft texture. It is not recommended that you consume an entire steak, typically they are shared.