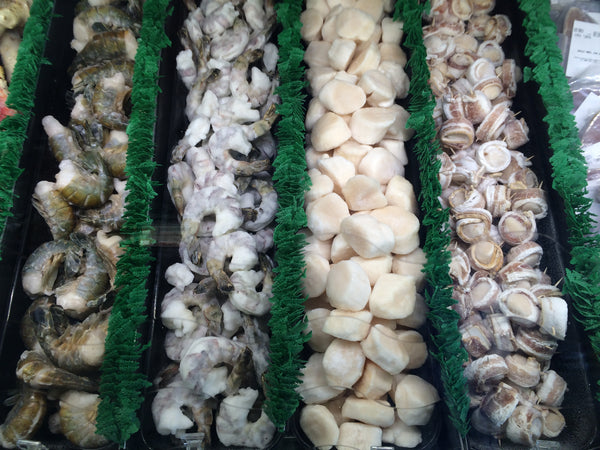 Seafood
Here at D'Arcy's Meats, our frozen surf and turf options are guaranteed to be fresh and flavourful - so if you're looking for scallops, shrimp, crab, or lobster, we have you covered!
Don't forget to also check out other choices such as salmon and other types of fish.
Seafood
Just because you live in a prairie province doesn't mean you can't enjoy what the sea has to offer! Not only is seafood a delicious and healthy choice for your next meal but our selection gives you lots to choose from:
Scallops: These versatile mollusks have a beautiful caramelized crust and tender center when pan-fried
Shrimp: From salads to pasta dishes, shrimp can be seared or sauteed to perfection
Crab & Lobster: Preparing crab and lobster is as easy as 1-2-3; boil them, crack them open, and enjoy!
Salmon: Let this delectable fish be the star of your meal by frying it, baking it, barbecuing it, or broiling it. The possibilities are endless! 
Don't forget to ask us about other seafood choices we may have in store!
Surf N' Turf
Are you a meat-lover or a seafood lover? Why not both? Surf and turf is a main course that combines seafood with meat. Typically, surf and turf involves the use of shrimp, scallops, lobster, and crab - all delicious seafood available in our store!
Try combining any of the above with our amazing wagyu or dry-aged beef or our tender and nutritious bison meat.
You can check out our red meat selection here.
Seafood is Good For You
Not only is seafood delicious, but it also has some amazing health benefits!
Seafood is filled with nutrients and can help to boost your brainpower (thanks to omega-3!). Seafood is also good for your heart because of its high protein and low saturated fat contents.
Joint pain? Bad eyes? Dull skin? Seafood can help with this too!
Have a Special Request?
D'Arcy's Meats is here to help you with your seafood needs. Whether you're ready to cook up some shrimp scampi or dive into a plate of surf and turf, we have the selection for you!
Come visit our store today to experience fresh and delicious West Coast seafood.
Our seafood prices do fluctuate based on market prices. Contact us today to get a quote!