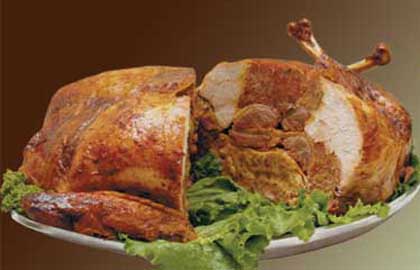 Our Turducken is made in house by our skilled butchers using local turkey, duck, chicken and our homemade sausage stuffing.
We offer it in three sizes for your convenience.:

Small Turducken Breast (1 x Turkey Breast, 1 x Duck Breast, 1 xChicken Breast, and Stuffing) - Feeds Approximately 8-10
Medium Turducken (Whole Semi-Boneless Turkey stuffed with 2 x duck breasts, 2 x chicken breasts, and stuffing) - Feeds Approximately 15-20
Large Turducken (Whole Semi- Boneless Turkey stuffed with a whole boneless duck, and a whole boneless chicken and stuffing) - Feeds Approximately 25+
Pick up is Oct. 5th, 6th, or 7th 2023 at either of our locations.