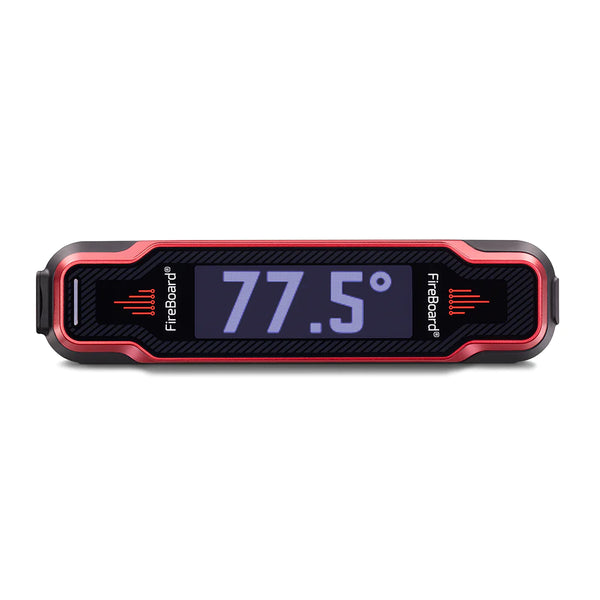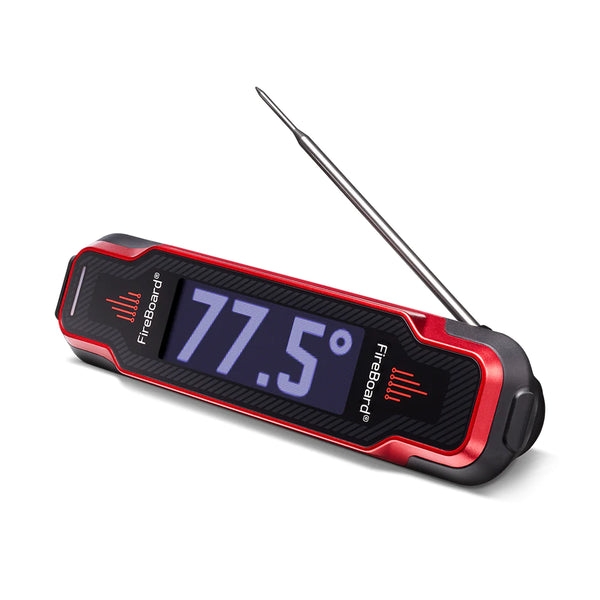 FireBoard® Spark is a highly accurate and fast instant-read thermometer, combined with a leave-in probe port for longer term temperature tracking.

Pairing your Spark with the FireBoard Mobile App keeps your temperature data available remotely everywhere you go. WiFi, Bluetooth, and FireBoard Cloud Connected.
SyncModeTM is a powerful mode to track other FireBoard devices using Spark as a display. This powerful feature uses the FireBoard Cloud to transform Spark into a beautiful countertop device, making all your FireBoard temperatures available at a glance.
DESCRIPTION
Upgrade your cooking arsenal with the all-new FireBoard Spark, a powerful and versatile instant-read FireBoard. The Spark is Cloud Connected so you can monitor your cook anywhere with the FireBoard mobile app (iOS and Android app available via free download).  Spark is also a single channel FireBoard, making it easy to graph your temperature data over time. Powerful new SyncMode™ transforms the Spark into a desktop display, beautifully monitoring all of your other FireBoard temperatures.
Compatible with Thermistor Type Probes only
Features:

Instant-Read thermocouple probe delivers fast and accurate temperature readings
External probe port enables monitoring of long-term cooking sessions
Sync Mode transforms your Spark into a remote FireBoard monitor
NSF Certified
NIST-Traceable calibration certificate
NFC scanner allows streamlined labeling of instant-readings
USB-C rechargeable Li-Ion battery provides 12+ months of normal use
WiFi, Bluetooth 4.0 (BLE) and FireBoard Cloud enabled
Built-in magnets for easy storage on metal surfaces
Specifications:
Range:

 

-58 to 572 ̊F (-50 to 300 ̊C) /

 

Accuracy:

 

±0.7 ̊F (±0.4 ̊C) from -4 to 392 ̊F (-20 to 200 ̊C); ±1.8 ̊F (±1.0 ̊C) full range
Resolution:

 

1.0° or 0.1° user selectable
External Probe Port:

 10K

 

or

 

100K Thermistor

 

FireBoard Probes

 

(probe not included)
Battery:

 

2600mAh Li-Ion rechargeable battery
Display:

 

192×64 LCD, Backlit
Waterproof / IP66
Dimensions:

 

6.25″ x 1.4″ x 1.1″ (159mm x 37mm x 27mm) /

 

Weight:

 

5oz (145 grams)
Included in box: FireBoard Spark Thermometer, USB-C charging cable, AmazingRibs Food Temperature Guide, Quick Start Guide
FireBoard®  Spark comes standard with a 1 year warranty