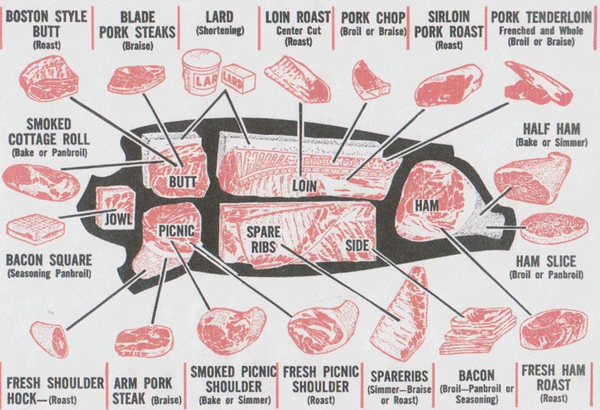 Pork & Boar
Bacon might be the first thing that you think of when pork is mentioned, but after a visit to D'Arcy's Meats, it might be the last, once you see all of our other pork options! The pork sold at D'Arcy's Meats is raised and produced locally in Canmore and Red Deer, Alberta. 
D'Arcy's carries all the standard cuts of pork:
Smoked Pork Chops

Ham Hock

Smoked Bacon

Chops – Bone-in & Boneless
Pork Tenderloin
Sides of Pork
ROAST WHOLE PIG
At your next cookout, consider roasting a whole Sucking Pig as an alternative to the standard hot dogs and hamburgers. Sucking Pigs can be stuffed, marinated, and spiced hundreds of different ways! The sky's the limit. All of D'Arcy's suckling pigs are locally sourced, and approximately 25-60lbs – perfect for 15-80 people.
BOAR
If you love pork, you'll love its wild cousin, Boar. It's the familiar taste of pork you love with a slightly 'meatier' flavour – think a beefier tasting pork. Use it in your standard pork recipes or highlight its unique flavors with a berry and red wine marinade. Try out our Cherry Wood Smoked Boar Bacon!
Don't see what you're looking for? D'arcy's is happy to provide custom cuts & fill special requests.
Looking for cured pork? D'Arcy's is proud to produce pork products and charcuterie in-house – including pepperoni, smoked pork and boar bacon, and homemade sausage, smokies & hot dogs.
Don't see the pork you're looking for listed here? D'Arcy's Meats is more than happy to meet your custom needs! Call or come in today for quality pork & boar to make your next dinner or cookout delicious and memorable. All meat prices fluctuate based on market prices, especially specialty items like these. Contact us to get a quote!